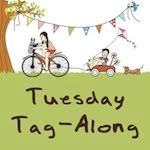 I'm joining in on my first networking meme today! I love doing these as it is a great way to learn about other bloggers! A new one has started up called "Tuesday Tag-Along" hosted by
Twee Poppets
.
Here's how it works:
* Create a new Tuesday Tag-Along blog post. Include the Tuesday Tag-Along button by copying and pasting the code above.
* Add your blog name and the URL of your TTA post to the MckLinky below.
* Follow
Twee Poppets
, the hostess blog listed in the first slot. Leave a comment saying you've followed, and Twee Poppets will follow you back!
* If you can, please follow the blogs in the three slots before you (e.g., if you're number 20, follow numbers 19, 18, and 17). This is not mandatory, but it will help ensure that everyone who signs up gets a few new followers!
* Follow as many other blogs as you want. The more you follow, the more that will follow you back! Be sure to tell them that you're following from Tuesday Tag-Along! You may also want to leave a link to your blog so they can return your follow more easily.
* When you get a new follower through Tuesday Tag-Along, be sure to follow them back! It's just common courtesy. :)
Welcome to my new blog! It is still a work in progress but I just wanted to share it with you! Sit back, relax, and read a few stores of how my kids have
tortured
taught me lately.
I also love Tag Tuesday! So much fun!
Today is Tuesday, New blank list goes up,

The Rules to playing

"Tag, you're it"

are simple:

add your information to the

spreadsheet "Tag" everyone else above you on the list
(Tag::add and leave Tag comment)

Check back regularly to "Tag" new friends below you (list is open all week)

"Tag" back everyone who has "Tagged" you (remember to add or follow in addition to leaving the Tag comment)